Update: Due to the flash sale today, we are officially running low on this puzzle, please place your order while supplies last!
BRINGING FAMILY AND FRIENDS TOGETHER
Solving puzzles is a timeless activity that can bridge generations. No matter the age, working together to solve jigsaw puzzles is extremely rewarding.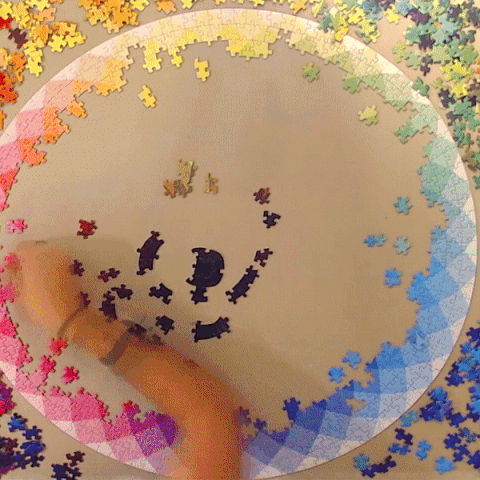 (Puzzle diameter when solved: 67,5 cm)

Not only do you have a chance to work together to accomplish something, but there is also lots of time to talk with one another.
Instead of a normal square puzzle, this circular jigsaw puzzle will give you a different experience, full of challenges and fun.
It is composed of 1000 pieces displaying the colors of the rainbow in a gradient.
 TRAIN YOUR BRAIN -  A great way to relieve stress from your day while enhancing creativity, imagination, patience and teamwork.


 PRECISE EDGES - Using 100% recycled cardboard, each piece is precisely cut, making them connect seamlessly with each other.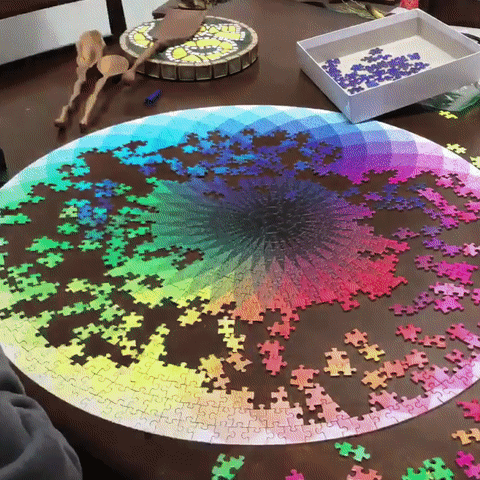 FOR ALL AGES - Suitable for both adults and the little ones, everyone can participate in solving this puzzle.


 ORIGINAL HOME DECOR - Frame the puzzle after solving it and showcase the colors of the rainbow in any room!
PERFECT GIFT IDEA
Our rainbow puzzle is ideal to make a unique and original gift. The pieces are packaged in an easy to gift-wrap sturdy rectangular box.
CREATIVE SOLUTION GUIDE ON THE BACK
The backside of the puzzle is divided into different areas with letters marked as "A", "B", "C"...
When feeling confused, you can check the back classification to reduce the difficulty.
Enjoy time with family and friends! Get everyone off their electronic devices and work together to solve our exclusive Rainbow Puzzle
30-DAY MONEY-BACK GUARANTEE
We care about our customers and the service we give you and that is the reason we offer a 30-day money-back guarantee.
If for any reason you aren't feeling satisfied with your order, just send it back within 30 days and we'll give you a full refund of your purchase price!
Contact us at cscustomerservice@buyeasyservice.com for any questions or queries.